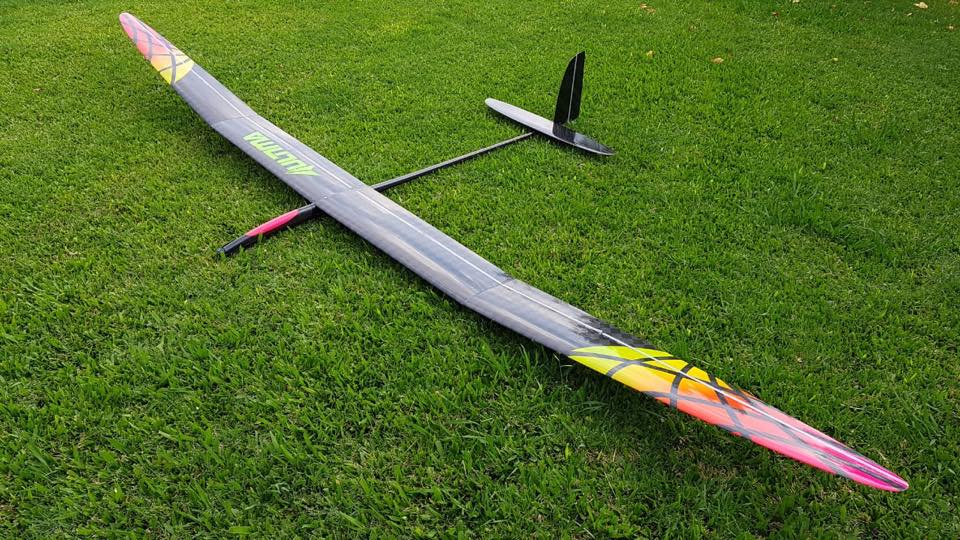 Introduction:
The Ultima, like its name, is an Ultimate weapon for F5J.
Based on the SynerJ design by Gerald Taylor, the Ultima was the first in its class to be built in F3K style construction methods which yield a super light model with exceptional float, handling and overall performance. Geralds original design has been stretched to 4 meters to achieve the best possible performance out of the model in all weather conditions.
The Ultima wing is a full core wing constructed out of milled Rohacell and light carbon. It is made in specially milled aluminum molds under extreme pressure. The aerodynamic design of the wing enables excellent penetration even at low weights and enables the Ultima to core the lightest of lift with great ease and no signs of tip stall even in the tightest of circles. The Ultima's glide ratio and extremely low sink rate is on the top echelon of competitive F5J gliders.
The Ultima comes with two sets of joiners, 5 and 7 degrees which allows the pilot to tailor the handling of the model to his liking based on weather conditions and personal preference. The tail volume of the Ultima is extremely generous making the Ultima's handling characteristics very benign and a joy to fly.
The fuselage is extremely light and fits all the equipment under a roomy canopy. Carbon pushrods are used for controlling the tails and a ballast system allows to increase the weight of the model for wind ant turbulence.
Versions:
Light – Aimed at minimal FAI wing loadings, this is the lightest version for low winds and min sink conditions. This version is limited up to 300 grams of ballast – 1070-1120 gram.
Normal – The most functional version, a good balance between strength and performance, able to carry up to 500 grams of ballast – 1200-1300 gram.
Strong – Reinforced wing skins, reinforced spar and fuselage. For winds and turbulence. A more robust version for when conditions require more weight and thermals are strong. Able to carry up to 650 grams of ballast – 1400-1500 gram.
Technical Specifications:
Dimensions:
Fuselage length : 1860 mm
Wingspan : 3.985 mm
Weight:
Fuselage with canopy : app 130 gram (strong: app. 150 gram)
Central panel : app 340 gram (strong: app. 500 gram)
Tip left / right : app 140 gram (strong: app.180 gram)
Elevator : app. 30 gram
Rudder set : app. 20 gram
Joiners : app. 16 gram
Small parts : app. 30 gram
Ballast set : 100, 200 and 300 gram